Phi Phi Islands
Is Don Phi Phi a good place to stay for a couple of days?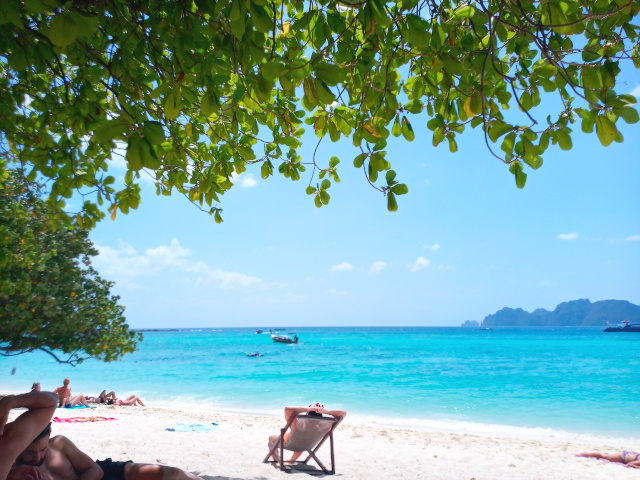 Picture taken at Long beach on Don Phi Phi, with Koh Phi Phi Lee in the background.
The Phi Phi island and especially Maya Bay have become extremely popular after the movie "The Beach" from year 2000 starring Leonardo DiCapiro.
The tourism became so extreme that the government decided to close down Maya Bay in 2018 an will at least stay closed to 2021 and probably even longer. The reason for the lockdown of Maya Bay was the extreme negative impact on the wildlife, especially the corals.
The Phi Phi islands is luckily much more than Maya Bay. Phi Phi Islands consist of two main islands, Ko Don Phi Phi and Ko Phi Phi Lee. In addition, there are small surrounding islands. Ko Phi Phi Lee is an uninhabited island that has the status of a national park and is the island where, among other things, the popular Maya Bay attraction is located. Ko Don Phi Phi is the inhabited main island known for its dire nightlife, many hotels and is very touristy.
You can still visit Don Phi Phi and stay on one of the many local hotels. It is business as usual on this extremely popular and touristy island. You can also take a day trip to Phi Phi Lee, either on an organized tour with a larger boat or a speed boat. You can also rent a longtail boat that you rent for half or full day. The price should not be more than 1800 baht for half day or 3500 baht for full day. You may also bargain these prices down a little bit.
On such a daytrip to Phi Phi Lee, you will visit many nice spots around the Island, even Maya Bay, but you can only dock the boat and swim outside the bay. You van not enter the beach itself. Another pearl is Pileh Lagoon that is absolutely worth a visit. Make sure to visit on the right spot in the day because of the tide and the angel of the sun since the direct sunlight is limited in the lagoon most of the day. The longtail boat driver will know what is best.
Another popular attraction is Monkey Beach on Don Phi Phi. Even if its on the main island where you probably stay, you will need a boat. Since it's a natural stop on the way to Koh Phi Phi Lee, you will probably visit Monkey Island on a day trip to that island.
There are also many nice places beaches around the main island of Don Phi Phi. You might need a longtail boat to travel to some of these beaches. Be aware of the low tide so you might be able to return. Because of the low tide and the fact that it is very shallow on several beaches, it is not possible for the longtail boats to enter or leave the beaches when there is low tide. Ask the longtail driver to advice you on this.
A must do on Don Phi Phi is also to visit the Viewpoints. This are called Viewpoint 1, Viewpoint 2 and Viewpoint 3. All of them are on the same track, it only depends of how far and high up you want to go. Be aware of it is to ways to visit the viewpoints. When you start to go up you should walk in stairs. If not, you're on the wrong path. Look for Arboreal Resort which is right below Viewpoint 1.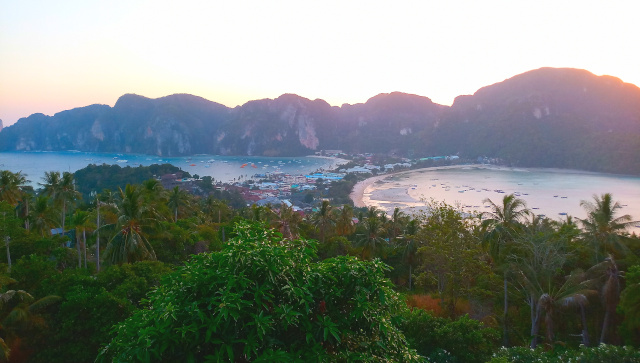 Sunset from Viewpoint 2 at Don Phi Phi.
Is it still worth visit Phi Phi, considered that Maya Bay is closed?
If you don't mind that Don Phi Phi is very touristy with a high party factor, you will absolutely still find it worth a visit for a couple of days. Be also aware of high prices compared to the mainland. If you like a more quit stay, you might visit one of the resorts with Long beach or Loh Ba Kao Bay, but then you will need a longtail boat to travel to the center of the island.
So, our conclusion is that the closing of Maya Bay shouldn't be a reason to not visit the Phi Phi Island. There are so much more to discover and things to do.
If you are a young party lover, then this is definitely the place to go to in Thailand. Although if thispartylife is not for you, you can have a nice stay on the Phi Phi Islands, but consider a hotel away from the center.
How long will Maya Bay be closed?
Maya Bay will be closed at least until June 2021, but much indicates that the closure will last for many years beyond this. In other words, you should not postpone a scheduled trip in 2021 because of this, as it may take many years before you get the opportunity to visit this particular beach anyway.