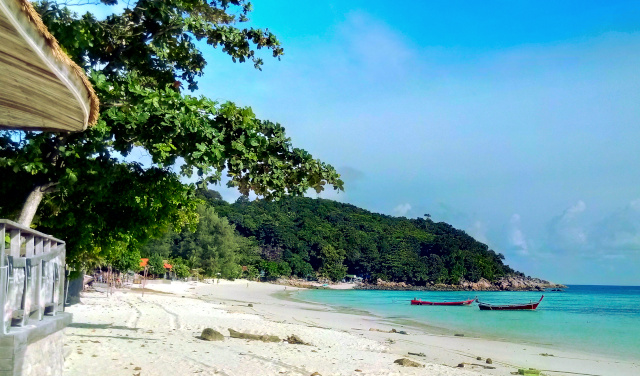 Koh Lipe is one of Thailand's last paradise island, but the tourism is on a strong rise at this island as well. For many paradise seekers that are looking for an untouched paradise island its already too late, but if you can live with the lack of the untouched vibe you will be fine.
There are a lot of information about Koh Lipe on the internet, so we won't write just another travel blog about Koh Lipe. Instead we will guide you through how to get to this island in the southern of Thailand in viewing distant from Malaysia's Langkawi.
Since Koh Lipe is a small island, you need to take as boat on the last part of your trip to Koh Lipe. We will highly recommend one of the many speedboats from different location in southern Thailand.
If you travel from Bangkok the easiest is to take a plane to Trang or Hat Yai and then take a minivan from the airport to Pak Bara Pier. From, Pak Bara Pier you take the speedboat directly to Koh Lipe. The boat trip from Pak Bara Pier takes about 1,5 hours.
If you travel from Phuket, Krabi or Koh Lanta you can choose to take a speedboat from several locations. Be aware that this is a longer trip with the speed boat and can take as long as 5 hours from Phuket depends of the speed of the boat and if it's a direct route or not. 5 hours doesn't seems that bad, but remember that its very unpleasant where you sit tight together in a speedboat in high speed with little view. Boat sickness is not uncommon.
How to book the minivan and boat tickets?
The easiest way to book your trip to Koh Lipe is through a service like 12go.asia. Then you can get affordable boats tickets that include pickup at your hotel or an airport.
It is also possible to book boat tickets on popular destinations close to the piers were the speed boats leaves from, like Krabi, Ao Nang, Phuket, etc.
Check if your travel insurance cover you in Hat Yai.
Be aware that Hat Yai is in a province with conflicts, so make sure your travel insurance is valid if you use that route. It's not much longer to travel via Trang which is outside the 4 southern conflict provinces.
From Tran you will get very cheap airline tickets to Bangkok with Air Asia. It's a small airport without hassling and consuming walking to get to the gate and trouble with orientation at the airport.
When you arrive at Koh Lipe.
When you arrive at Koh Lipe, you will either arrive at the Pattaya beach or at the Sunrise beach depending of the season. In the high season Pattaya is the place you will arrive and in the low season it's Sunrise Beach.
Usually the speed boat will not drive you all the way to the beach, but will let you off on a large floating pier outside the island. From there you need to take a longtail boat to the island. You must be prepared to pay 50-baht pr. person for a longtail boat.
Koh Lipe is a part of the natural park, so you have to pay a 200-baht entry fee when you arrive Koh Lipe, pr. person. So, remember enough cash. Take care of the ticket since you need it if you want to travel on a day trip to some of the surrounding islands. The ticket is valid for one week.
Most of the hotels and resort will meet you on the beach and arrange transport to their place. If this is important for you it will still be a good idea to contact your hotel in advance to make sure that this is arranged. If, not you can easy pick up an tricycle for 50-baht each person.
Smart preparation for the trip to Koh Lipe.
The boat ride can be a little bumpy, and your luggage can be wet since its stored in the front in the speedboat.
A good advice is to pack electronics in plastic bags, before you place it in your luggage. When it come to seating in the boat the best places are in the back of the boat, since the bow will jump a lot more up and down compared to the aft of the boat.
Its also a good advice to go on the toilet before you enter the boat and bring some water to drink on the way.
Daily life on Koh Lipe.
The daily life of Koh Lipe is very laid back and comfortable. Even if it is a very touristy place, the staff on the island and the locals are very friendly.
Everything on the island is within 10- 15-minute walking distance, but if you like you can take a trike to anywhere on the island for 50-baht pr. person. You can also take a longtail boat if you like.
There is a lot of restaurants, 7-eleven shops and other shops on this small island. There are also several ATM's, but its also smart to bring some cash from the mainland to be on the safe side.
Laundry service and massage are also available. The island also have a small hospital/ clinic, so you should not be worried if you have some health issues. At Pattaya beach, not a long distance from the end of the Walking street, you have a modern and fancy outdoor disco with a large pool.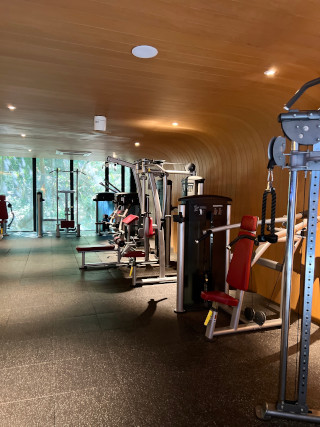 Most people don't travel to Koh Lipe with the purpose to work out, but you may not want to lose your form wither. When you travel to an Island the lack of a proper gym may be a dela breaker for some people the take their training seriously.
For many years there was really not any good options for weight training at Koh Lipe. It was a small "jungle gym" in the backyard at OMG Sports bar, a run-down local gym (now closed), and some small hotels gym. The problem was that none of these options was considered acceptable options for western gym lovers.
Fortunately, this has now changed. There is now a good acceptable gym located at Koh Lipe. The gym is called I-club and is a part of Idyllic Resort at the southern part of Sunrise Beach and are modern gym with 3 floors.
It's more a Fitness center than a hardcore gym, but it has modern equipment with several weighted machines, dumbbells up to 25 kg, smith machine, bench press with enough plates for most people and different options for cardio. It even has a small climbing wall and are air conditioned. For the regular gym at it will be more than an acceptable option during their vacation at Koh Lipe.